Welcome to Richmond 'An Gáirdín Rúndach'. Richmond is a period property built circa 1830, and it first appeared on the Ordnance Survey map of 1840. The house is an eight bay two storey structure built in the Italianate style popular during that period. The first owner of the house was a Mr. H Smyth in 1837, and it later passed into the hands of Captain George Walker in 1847. It is believed that George Walker was related to the famous Johnnie Walker Whiskey family, and indeed there is a pond on the property which was a holding pond for a local distillery. Richmond Hill which runs parallel to the property is locally known as Walkers' Hill.
The property was later owned by the Furlongs who were a prosperous family of millers hailing from Co. Wexford. The Furlongs owned a number of properties in Cork, including Ballinamona Castle and House in Shanballymore (An Sean Bhaile Mór). Coincidentally, they were well known for breeding horses and had a Grand National winner in 'Reynoldstown' two years in a row in 1935 and 1936. It had been rumoured that the winning horse was stabled at Richmond, however, it is unlikely that this is the case since the property was sold to the Presentation Sisters in 1920.
Richmond was in the hands of the Presentation Sisters from 1920 to 2020 and served a number of functions, from being a primary school for girls to being a Noviciate for novice nuns and later the headquarters for the upper echelons of the order.
The Presentation sisters kept the house in very good condition on the whole. Extensive work had been done on the roof and a heating system had been installed. Some of the rooms had been partitioned, and overall there is an institutional feel to the interior. All of the original fireplaces have been removed but one, which dates from the Furlong period and bears their coat of arms. The exterior timber doors had been replaced with PVC. However, almost all of the original cornicing and ceiling roses remain intact and restoration of the house is mostly cosmetic.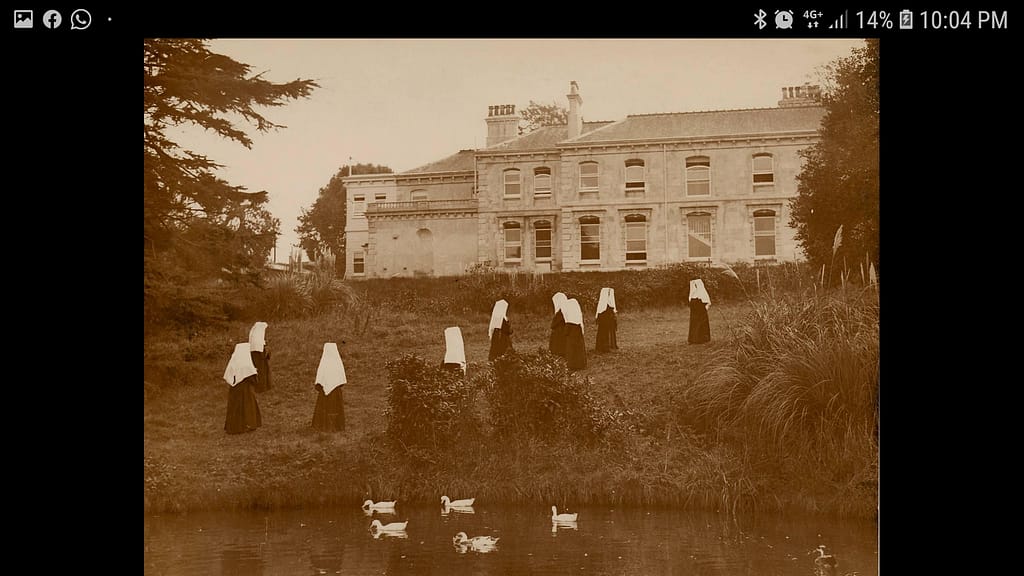 The Ó Cinnéide family are the present custodians of Richmond and aim to restore the house and grounds to its former glory. The family took possession of the keys to Richmond at the end of August 2020 and have been working relentlessly on the property since. Almost all of the work to date has been focussed on the grounds which have become overgrown in parts and left quite raw in other parts. Amongst many of the ongoing projects is the thinning out of the woodland and the planting of a beech hedge and other trees in order to restore a formal look to the grounds.
As the Chinese proverb goes – 'The best time to plant a tree is 20 years ago'